What is HowsYourHealth.org? A Family of Web-sites designed to improve health and health care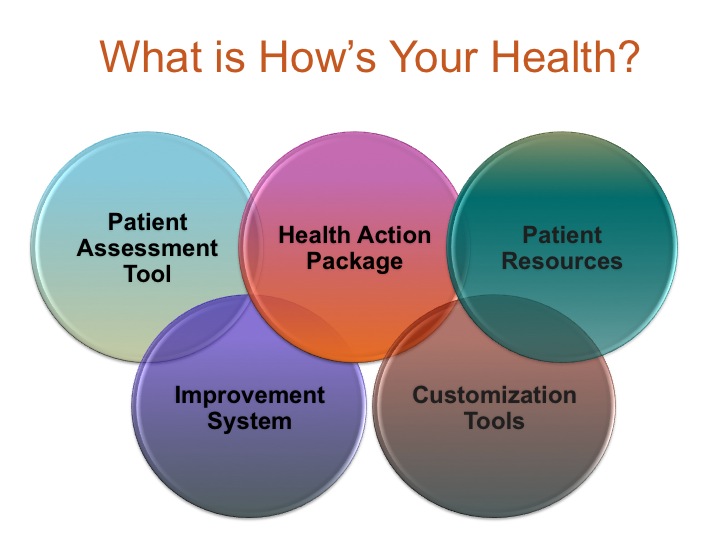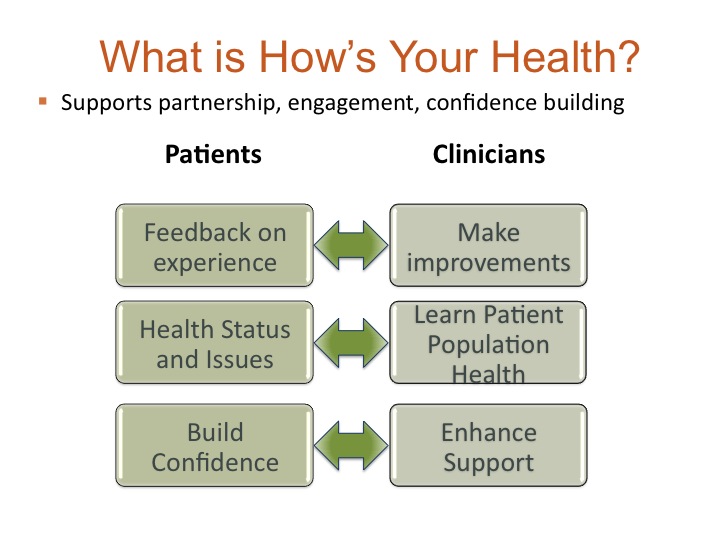 ---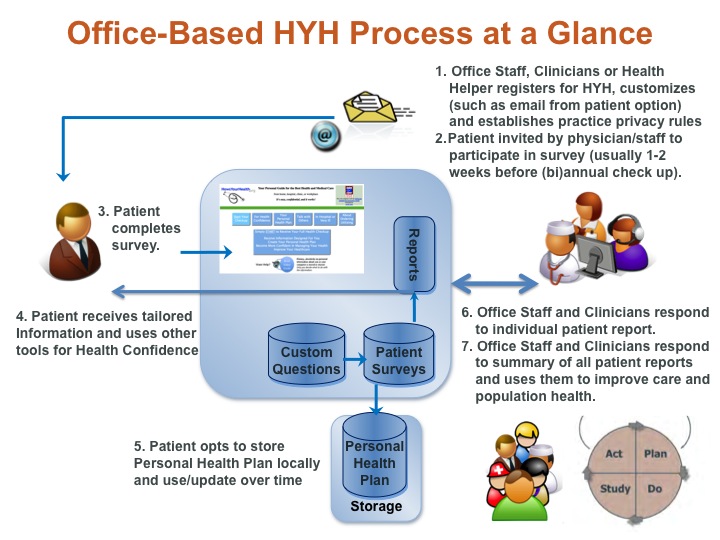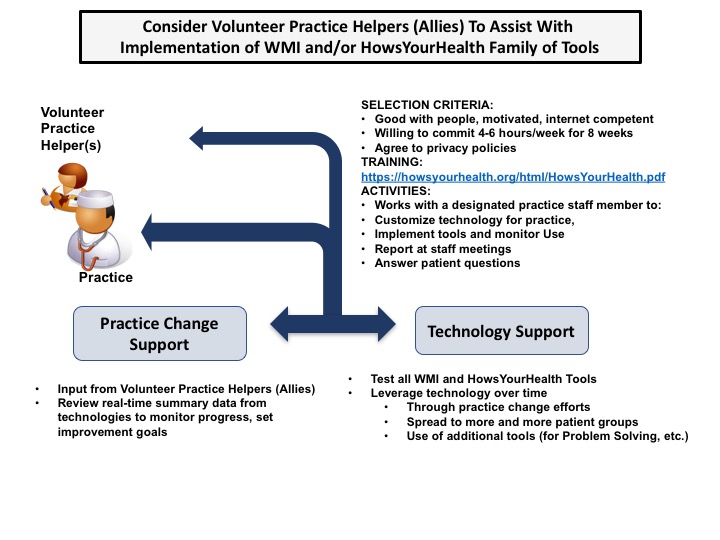 ---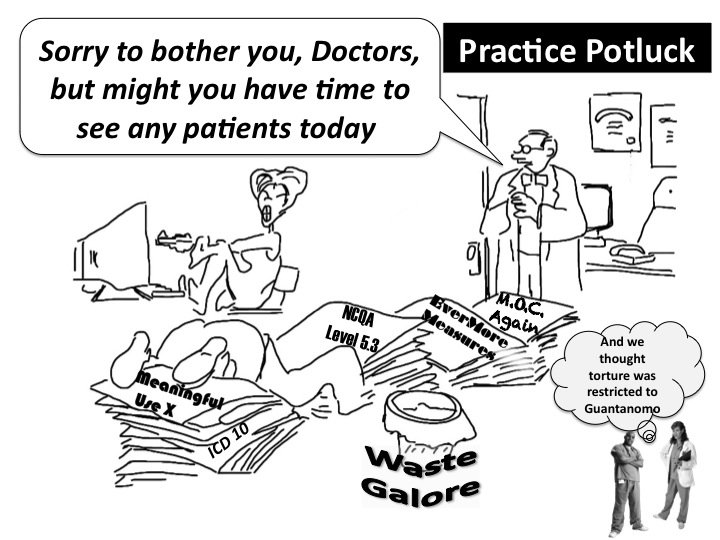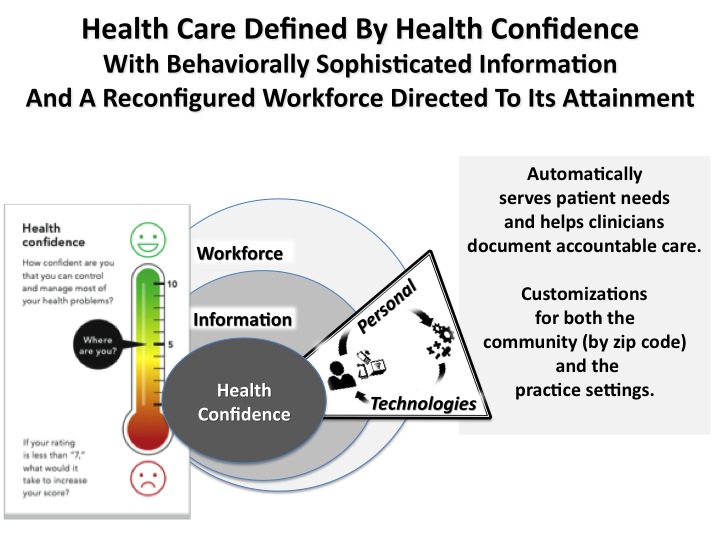 ---
Please read this document to familiarize yourself with all the HowsYourHealth family and its relatives.
Download Handouts Front and Back
Most of these web sites automatically create a portable Personal Health Plan for the patient.
All outpatient and community websites are available for free.
They can be customized for a sponsor such as a doctor's office, community, employer, clinic, hospital, or school.
For each patient a clinician uses patient-reported-measures to assess a broad range of needs that matter to the patient, automatically provide tailored information, automatically build a personal health plan. This automatic information increases patient confidence in self-management and improves health behavior. Each practice can customize HYH and use the summary data to guide practice improvement. A HIPAA secure registry enables the practice to manage populations of patients with similar characteristics (such as those with low health confidence, emotional issues, etc.)
Why do doctor's offices, communities, employers, clinics, hospitals, or schools sponsor HowsYourHealth Websites?

A sponsor can customize the HowsYourHealth Family of Web-sites by making "hot links" to their own web-site, adding questions, adding categories, and obtaining real-time summary reports of responses to the surveys. Bonafide sponsors can have individual responses mailed to them electronically.

By sponsoring your own site you can also compare your results to others. (More information on customization)

In clinical practices this technology immediately and automatically serves patient needs and helps them become more health confident. Meanwhile your busy practice can more efficiently be on "the same page" with your patients as you i) fulfill patient assessment requirements for reimbursement (e.g. Medicare Annual Wellness Visit); ii) produce summary patient experience measures to inform payers about care quality; iii) automatically offer motivational interviewing to patients; iv), create patient care plans; v) provide shared decision-making, problem solving, and end-of-life care assessments for attaining requirements for "meaningful use"; vi) use a registry to manage groups of patient; and vii) document practice improvement for Maintenance of Certification.

HowsYourHealth Self-Report Information Reliable and Valid and Methodologically Sound?

The attached review of the "Clinimetrics" provides much more detail. As an example, several studies compare medical records with patient report for preventive interventions (such as mammograms, bowel cancer screening, immunizations) and generally find 80% or greater agreement. In one clinical setting, HowsYourHealth patient report was checked against actual bioclinical measures:
In six other settings (and 500 patients) accuracy of patient self-report was also good and unrelated to patient education level and income.

What should be done when users are asked to email information to a bonafide sponsor such as a doctor's office?

The sponsor should develop methods to address privacy concerns about who will have access to and manage any information e-mailed to the sponsor. If the registry is used, the same concerns apply. Email address boxes should have access limited to few persons. Comparison of HowsYourHealth privacy concerns vs. typical medical records.

Can sponsors offer special care management programs through HowsYourHealth?

Yes. Once the sponsor has identified a target for improvement or special care the administrative section is needs to be customized. (See [10]). For example, early in our work we recognized that users who have pain AND emotional concerns were more bothered by their pain than those without emotional concerns. We successfully addressed this by inviting persons with pain and emotional problems on line to register for nurse follow-up and discussion of the exercises in the readings on pain. An example of the invitation that was created by customization read:

ARE YOU BOTHERED BY PAIN? We are offering a special program for persons who are bothered by pain. If you are interested, we ask that you register by submitting your name, address, phone number and best time to call you. A nurse will call you and talk about the problem and set up a program to help improve your control over the pain.

How do the HowsYourHealth Family of Websites Improve Health Care?

They place clinicians and patients "on the same page" for issues that matter to the patients.

Practices respond to "what matters" and help patients become better at managing concerns that are important to them.

Is there "Instant Summary" data for people who use my code?

Yes. See sample.

How do I order a HowsYourHealth Website?

You may use without charge any of the HowsYourHealth Family of Websites and link them to your own website. If you wish to customize a HowsYourHealth Website as a sponsor, you should register on line. By registering, you can begin using HowsYourHealth without charge and test how well it can work in your setting. Because of size or complexity, some large organizations (and in particular Accountable Care Organizations) need special assistance to reap the greatest benefits from the HowsYourHealth Family of Websites. If you would like a consultant to contact you about HowsYourHealth, please call 603-653-3467. There is no charge for this service.
Copyright © 1997-2022 FNX Corp. and Trustees of Dartmouth College. All Rights Reserved.